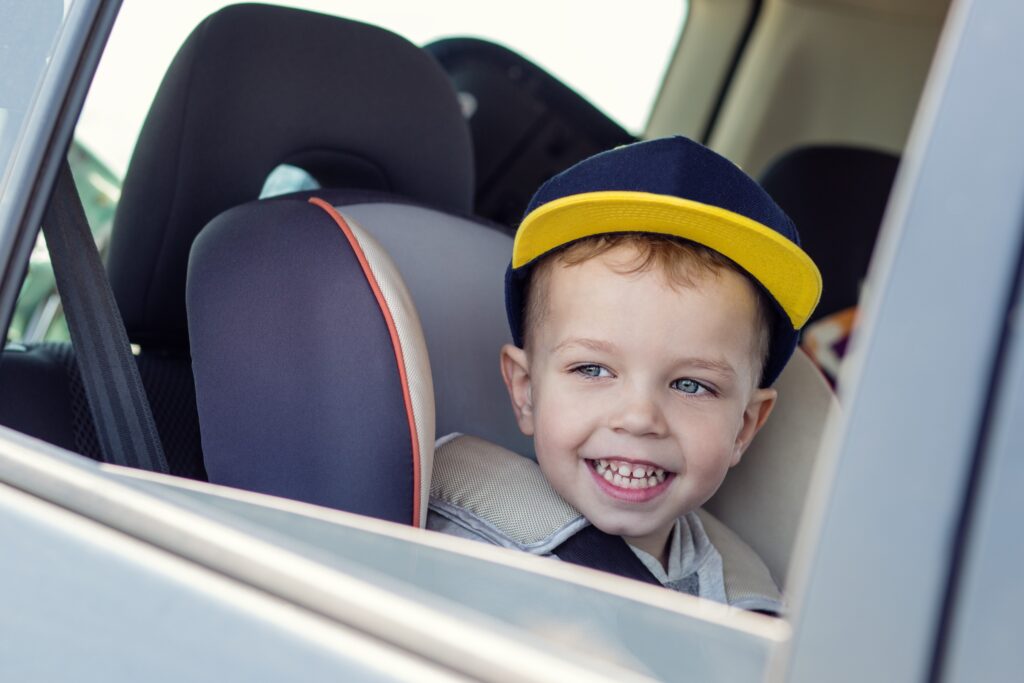 Child Passenger Safety Week runs from September 17 to 23 in 2023. Organizations like the National Child Passenger Safety Board (CPS) and the National Safety Council (NSC) use the event to educate people on how to keep kids safe inside automobiles. The Las Vegas car accident lawyers at ER Injury Attorneys want to do their part as well. Below are five important safety tips that will help keep your children safe while they're in your car.
If your child was injured in a car crash then contact our Las Vegas injury lawyers immediately at 702-878-7878 for assistance. Our team is available 24 hours a day, 7 days a week to serve you.
Five Tips For Child Passenger Safety Week
No matter how safe of a driver you are, collisions and crashes can happen at any time through no fault of your own. When you're driving with a child, extra safety measures are required to protect young passengers since kids tend to be more fragile than adults. The good news is that even if you're in a car wreck, there are many things that you can do to prevent or minimize injuries. Our Las Vegas car crash attorneys recommend the following Child Passenger Safety Week tips.
1) Make Sure to Use the Right Safety Seat: just like your children, child seats come in various shapes and sizes, from infant carriers to convertible seats to boosters. As your child grows, the safety seat you've been using may no longer be appropriate for them. In some types of car wrecks, using the wrong car seat can lead to injuries or make them worse. Safe Kids has an excellent guide on child seats to help make sure that you're using the right seat for your child.
2) Always Buckle Up: seat belt use is important for all drivers and passengers. Whether you're driving a few blocks or hundreds of miles, you should always make sure that your child's car seat is securely fastened by a seat belt. Additionally, adults should always buckle up. In the event of a Las Vegas car crash, a seat belt can make the difference between being concussed or being able to help your child. Also, it's good for kids to see adults always using their seat belts so that they learn proper car safety practices.
3) Use Child-Proof Locks and Windows: one of the easiest ways for kids to get hurt while riding in a car is by playing with doors and windows. An errant button press can lead to a major injury when a car is driving at high speeds. Thankfully, all cars sold in the United States since 1985 have child-proof locks in the rear doors. It's important for adult drivers to remember to use child-proof locks and windows when they're transporting kids. They can make a tremendous difference in avoiding accident injuries.
4) Secure Loose Objects: any loose items in your car can become dangerous projectiles if you have a crash or even if you just have to hit the brakes to avoid a collision. Put heavy items in the trunk, on the floor, or as far forward in the cargo area as possible. Avoiding piling up cargo, as objects on top can fly into the seating area. Consider using accessories like cargo nets and trunk organizers to secure loose objects. You should also take measures to secure any pets. Just like heavy inanimate objects, a pet can become a projectile resulting in serious injury or worse for both them and any child passengers near them during a crash.
5) Never Leave a Child Unattended: children are naturally curious and many are unaware of how dangerous everyday objects can be. That's one reason why you should never leave your child unattended in your vehicle. Even if you only plan on leaving them alone for a few minutes, that's more than enough time for kids to play with objects in your car that can cause major injuries. In addition to being dangerous for children, leaving a child unattended in a car is illegal in Nevada.
Contact a Las Vegas Car Wreck Lawyer
The Nevada injury lawyers at ER Injury Attorneys hope that you found these Child Passenger Safety Week tips useful. Please share them with your family and friends that drive with kids. By following these safety practices and driving carefully, we can help reduce the number of youth injuries in car accidents.
Unfortunately, there are some accidents that are unavoidable. If you or your kids have been injured in a car crash then contact ER Injury Attorneys for immediate help. You can reach ER Injury Attorneys 24 /7 for a free, no obligation consultation. Our team is available by phone at 702-878-7878 and online through LiveChat or secure contact form. Our skilled and knowledgeable attorneys represent accident victims throughout Southern Nevada, including Las Vegas, Henderson, Summerlin, Pahrump, Boulder City, Laughlin, and beyond. To make sure that you get the highest possible settlement allowable by law for your injuries, give us a call today.
The information on this blog is for informational purposes only. It is not meant to serve as legal advice for an individual case or situation. This information is not intended to create an attorney-client relationship nor does viewing this material constitute an attorney-client relationship.