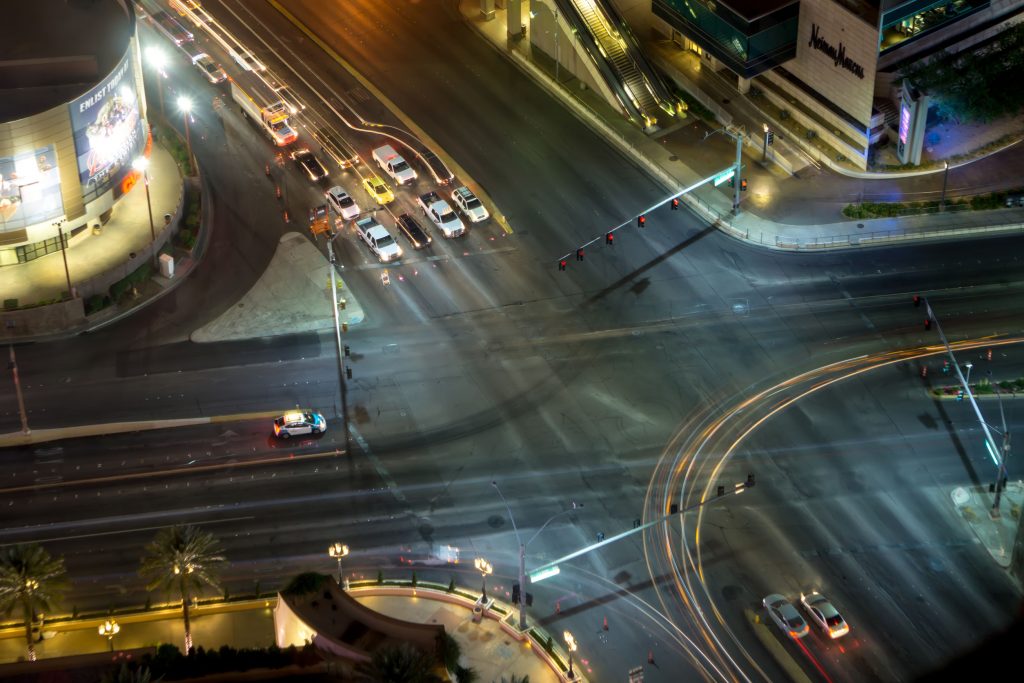 With approximately 42 million tourists and 2.7 million locals in 2019, the Las Vegas area often has heavy traffic. Unfortunately, extreme traffic conditions can lead to car accidents. To help keep you and your family safe, ER Injury Attorneys presents a list of the five most dangerous intersections in Vegas. Below are descriptions of each intersection, as well as a map that shows you the precise location of all five. Approach these intersections with caution so that you can avoid an accident that ends in a catastrophic injury or wrongful death.
Five Most Dangerous Intersections in Vegas
I-215 and I-15
This is arguably the busiest intersection in all of Nevada. You have traffic to and from the Las Vegas Strip, McCarran International Airport, and California. Looking at the map below, you'll see that this intersection has big curves and loops, which can confuse drivers unfamiliar with the area.
South Rainbow Boulevard and West Charleston Boulevard
These are two major roads that have eight lanes each. In addition to the sheer amount of cars, drivers on these two roads often speed. This intersection in particular sees a significant number of red lights ignored by drivers. When you add all those factors together, it's no wonder that this is one of the most dangerous intersections in Vegas for both vehicles and pedestrians.
West Sahara Avenue and South Decatur Boulevard
Slightly west of the Strip, this intersection has an unusually high concentration of minor car accidents. Although many people think of it as more of a locals area, a fair amount of tourists venture this way in Ubers or taxis for great dining deals. While seeking out fantastic eats is always a worthy pursuit, be careful if you'll be traveling through this intersection.
East Flamingo Road and South Pecos Road
East of the Las Vegas Strip, but before Henderson, many people use this stretch of Flamingo Road as a "shortcut" to avoid east-west traffic on the I-215. Additionally, it receives a fair amount of traffic for UNLV and the Thomas and Mack Center. Sadly, the intersection of Flamingo and Pecos often has major car accidents and at least one traffic fatality every year.
Boulder Highway and South Nellis Boulevard
Another intersection of two major roads (and a third very close by in Flamingo Road), this area has a number of great restaurants, motels, trailer parks, and the popular Sam's Town Hotel and Gambling Hall. Furthermore, many people pass this intersection traveling between Las Vegas and Henderson. With many major retail outlets and restaurants in the area, this intersection receives heavy pedestrian and truck traffic as well.
Map of the Five Most Dangerous Intersections in Vegas
Now that you have a bit more information about the five most dangerous intersections in Vegas, here's a convenient map to help you plan your travels. It's a good idea to save a local copy of the map on your phone, just in case you're in a bad phone reception area. The more information you have, the better you can plan, which can be invaluable in avoiding a Las Vegas car accident.
Get Into a Las Vegas Car Accident? Call ER Injury Attorneys.
Unfortunately, no matter how safe you drive or how thoroughly you plan, there may come a time when you get into a car accident through no fault of your own. This is when you need an experienced personal injury lawyer, like the ones at ER Injury Attorneys. Our team has decades of combined experience serving Nevada accident victims. In addition to a commitment to winning you the highest settlement possible, our lawyers treat all of our clients with the compassion and respect that they deserve.
You can reach ER Injury Attorneys 24 hours a day, 7 days a week by phone at 702-878-7878 or online through LiveChat. Remember, consultations are free so don't hesitate to contact us or check out our FAQ section. Our legal team is standing by to help you deal with frustrating aspects of an accident and to make sure you're not taken advantage of by the insurance company.
The information on this blog is for general information purposes only. Nothing herein should be taken as legal advice for any individual case or situation. This information is not intended to create, and receipt or viewing does not constitute, an attorney-client relationship.