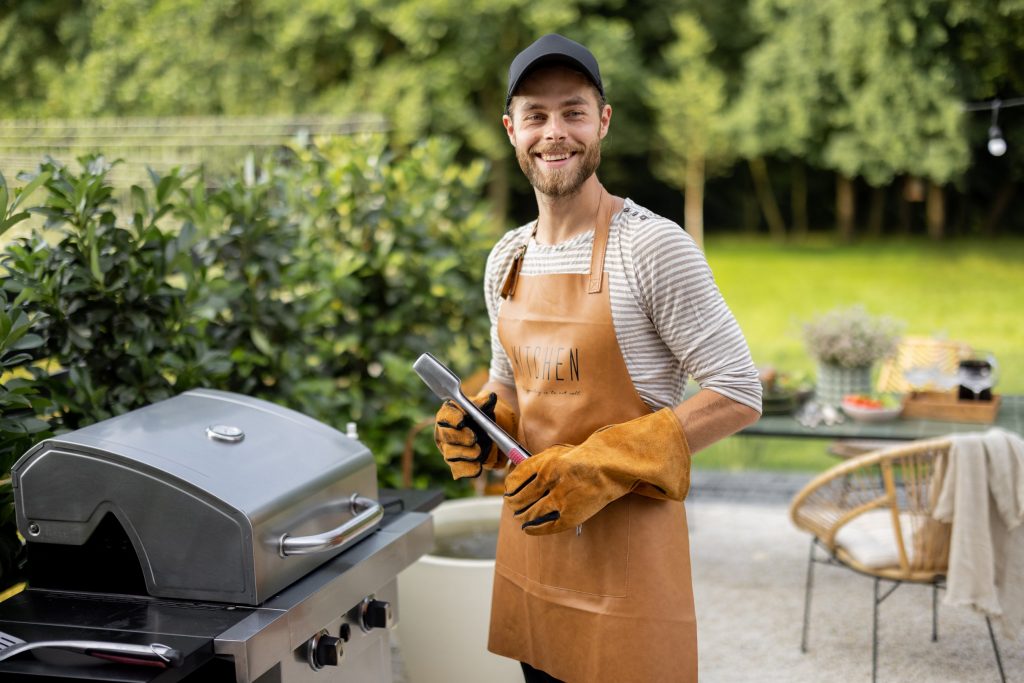 July is National Grilling Month, which is a wonderful excuse to fire up the grill for a delicious meal. Thousands of people throughout the Las Vegas Valley use barbecue grills daily throughout the summer. Unfortunately, increased grill use also leads to an increase in grill-related burn injuries and cooking accidents. To help you and your family stay safe around the barbecue grill, the Las Vegas personal injury lawyers at ER Injury Attorneys offer the following safety tips.
National Grilling Month Fast Facts
To help you understand how serious barbecue grill accidents can be, here are some facts and stats from the National Fire Protection Association (NFPA). The organization claims that:
64% of U.S. households have at least one outdoor grill or smoker
July has more grill fires than any other month, followed by June, May, and August
19,700 people seek emergency room treatment every year because of grill-related injuries
9,500 people receive thermal burns from grills annually
10,600 house fires are started by grills every year
More than 80% of grill-related fires start from gas grills vs. charcoal, wood pellets, and other solid materials
Many people are surprised to learn how often grilling accidents happen. While it's understandable for people to get caught up in good times and great food, it's important to emphasize grill safety. It can make the difference between a wonderful meal with your friends and a trip to the emergency room.
Five Valuable Barbecue Grill Safety Tips
While grill-related burn injuries and cooking accidents are surprisingly common, the good news is that they can be easily avoided through proper safety measures. Here are some valuable tips the Nevada personal injury lawyers from ER Injury Attorneys have learned from our clients. Please share them with your friends and family as part of National Grilling Month.
Grill Safety Starts with Grill Placement
It's important to keep your grill at least 10 feet away from your house and other structures. One major reason for grill-related house fires is that the grill is too close to the home or other flammable structures.
Additionally, make sure that your grill is in a well ventilated outdoor area and that fumes do not flow through windows. Inhaling the noxious fumes from a barbecue grill can lead to brain injuries and even wrongful death.
One Tip for Charcoal Grillers
Charcoal grills are fantastic for getting incredible barbecue flavor, but they can also be dangerous–especially when starting a fire. Using a charcoal chimney or an electric starter greatly increases your safety.
One Trip for Gas Grillers
For natural gas and propane grills, be sure to check any connections for leakage and replace hoses or tanks as needed. As noted above, gas grills are far more likely to cause a house fire than charcoal or wood pellet grills. A major reason for this is leaky connections or damaged equipment, which can be disastrous when dealing with compressed gas.
Accessorize for Grilling Success
Using the right accessories for grilling is a great way to stay safe. Dedicated barbecue tools, such as extra-long tongs and turners, are important to avoid burn injuries. These tools are considerably longer than their kitchen counterparts, since you'll be working close to a grill that can get hotter than 450F.
Furthermore, gloves and aprons are essential for avoiding cooking injuries. Welding gloves are often cheaper and more protective than gloves specifically marketed as "barbecue gloves." Any simple apron will do, as long as it fits you well enough to catch any fat or grease splatters.
Always Have a Sober Adult Watching the Grill
Be sure to have a sober adult monitoring the grill at all times. The Las Vegas area is notorious for strong gusts of wind. Sudden wind can sometimes be strong enough to blow a grill over, which can lead to house fires and burn injuries. An adult caretaker can make sure that any grill mishaps do not lead to injuries.
Additionally, some grills and smokers have designs that appeal to kids. For example, some have handles that are shaped like bull horns and kids can't help wanting to swing on them. Having proper adult supervision can help your guests avoid injuries and protect you from an attractive nuisance lawsuit.
Contact a Las Vegas Burn Injury Lawyer
ER Injury Attorneys hopes that you have an excellent National Grilling Month and that you follow the safety tips above to maximize your safety. Unfortunately, accidents can happen no matter how safe you're being. If you or a member of your family have been injured in a barbecue grill accident then contact a Las Vegas burn injury lawyer from ER Injury Attorneys immediately. Whether you were injured in Las Vegas, Henderson, Summerlin, Pahrump, or Boulder City, our team can help you.
You can reach ER Injury Attorneys 24 hours a day, 7 days a week by phone at 702-878-7878 and through the Internet via LiveChat or encrypted contact contact form. Our team of legal professionals is dedicated to winning you the highest settlement possible, while treating you with the compassion and respect that you deserve. Give us a call today and you'll quickly find out why ER Injury Attorneys is one of the most trusted personal injury law firms in Nevada.
The information on this blog is for general information purposes only. Nothing herein should be taken as legal advice for any individual case or situation. This information is not intended to create, and receipt or viewing does not constitute, an attorney-client relationship.