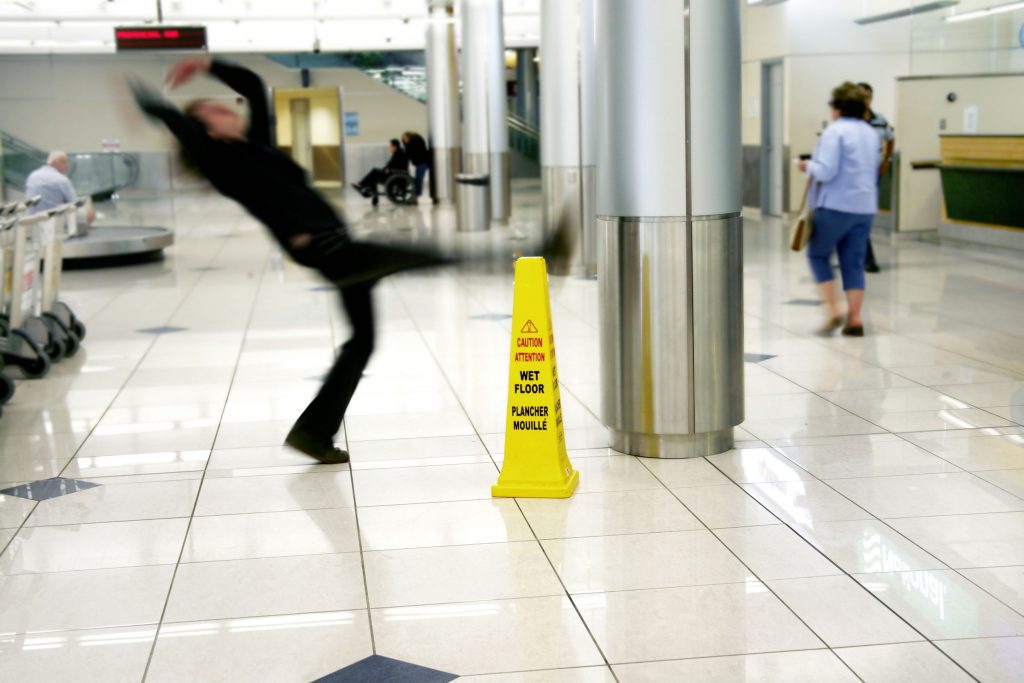 With more than eight-million people seeking medical treatment for slip and fall accidents every year, these personal injuries are one of the most common accidents. Although these accidents occur often, many people are unsure of who is liable if their injuries were caused by another party's negligence or recklessness. To help you understand the next steps to take after your injury, ER Injury Attorneys explains who is responsible for a Las Vegas slip and fall accident.
Las Vegas Slip and Fall Accident Liability
Compensation for your slip and fall injuries can vary greatly, depending on where the injury took place. The important thing to remember is that as long as your injuries were caused by another person's or party's actions or inactions, then you should receive compensation. Let's take a look at different scenarios to help you understand what actions to pursue.
Injured on Private Residential Property: If you were injured at a person's house or at an apartment complex then the owner or property manager may be liable for damages. Property owners have a responsibility to provide safe conditions for visitors. This is known as a "duty of care." If they fail in their duty to care and it causes you harm then they or their insurance company may be responsible for your expenses.
Injured at a Commercial Establishment: Slip and fall accidents are common at shopping malls, restaurants, and other public commercial establishments. For example, the janitorial staff failing to post a sign warning patrons of a wet floor or a waiter spilling a drink can lead to a slip and fall accident. In cases like these, the store owner, mall owner, or restaurant owner may be responsible for compensating you for your injury expenses.
Injured at a Local, State, or Federal Facility: The Las Vegas area is blessed with many fantastic recreational facilities, including parks, campgrounds, beaches, and more. Additionally, there are a number of government buildings often visited by the public, such as the Department of Motor Vehicles, courthouses, city halls, and more. Unfortunately, there are times when these facilities are not properly maintained, which can result in a Las Vegas slip and fall accident.
Getting compensation for an injury incurred at such a facility depends on which level of government manages it. Nevada has facilities that are managed at the local, state, and federal levels. The entity that manages the facility, such as Las Vegas Parks and Recreation or the U.S. Bureau of Land Management, may be liable for damages if you've suffered an injury at one of their facilities.
ER Injury Attorneys Can Help You Get Compensated For a Las Vegas Slip and Fall Accident
Whether your accident happened at a casino, shopping mall, or state park, ER Injury Attorneys can help you get compensation for your medical expenses, ongoing treatment, pain and suffering, and more. Our team of experienced and knowledgeable personal injury lawyers have been successfully representing Las Vegas victims since 2011.
Recovering from a slip and fall accident can be emotionally and physically taxing. Let our attorneys handle all of your legal needs so that you can focus on your health. With our commitment to customer care, ER Injury Attorneys is confident that you won't find a better legal advocate than one of our lawyers.
Contact ER Injury Attorneys
You can reach the legal team at ER Injury Attorneys 24 hours a day, 7 days a week by phone at 702-878-7878 or online through LiveChat. Consultations are free and we represent clients on a contingency basis. This means that you won't pay a cent until your case is won. With a sterling reputation for taking care of our clients' needs and a history of winning tens of millions of dollars for our clients, ER Injury Attorneys has proven to be one of the leading personal injury law firms in Las Vegas. Give us a call today and let us serve you.
The information on this blog is for general information purposes only. Nothing herein should be taken as legal advice for any individual case or situation. This information is not intended to create, and receipt or viewing does not constitute, an attorney-client relationship.