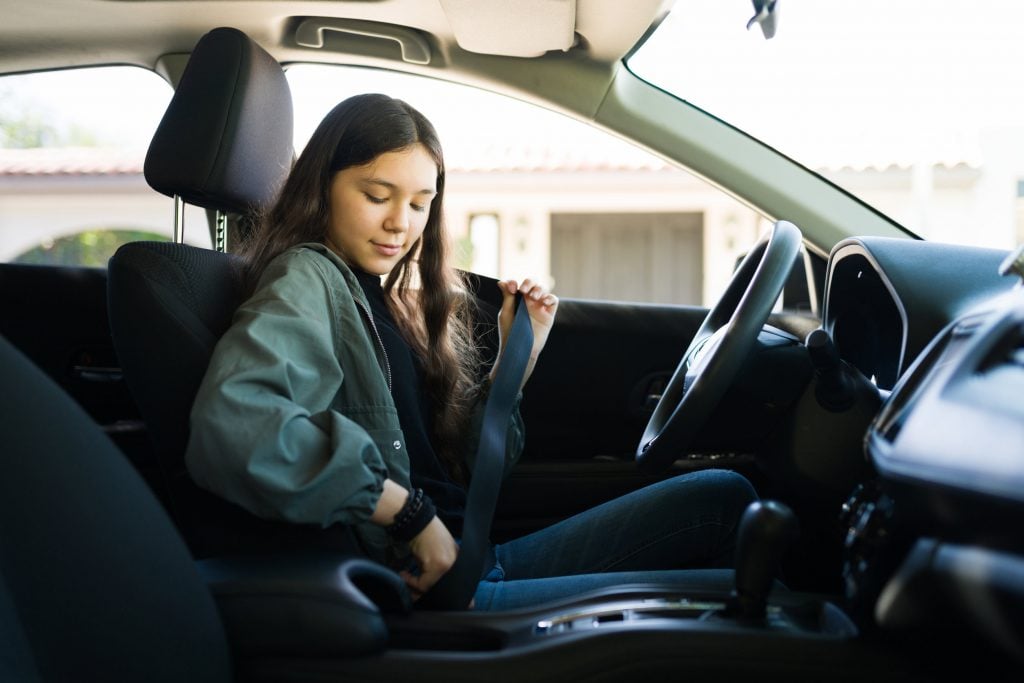 Car accidents are the #1 cause of death in teens in America. One campaign to refocus attention to that fact is Youth Traffic Safety Month, which occurs every May. But how can parents help their kids stay safe on Las Vegas roads?
Here are six areas every parent should understand and reinforce at home to prepare their teenagers for navigating potentially dangerous roads ahead.
1. Know Nevada Teen Driving Laws
When your teen starts driver's education, they'll learn information that you've probably forgotten. This is a great time to go over the general rules of traffic and refresh your memory. Do this through conversations with your child, which will in turn solidify the information they've taken in during class.
In addition, you should go over the laws specifically created for teen drivers in Nevada. For example:
During the first 6 months after getting their license, teens cannot drive any passengers younger than 18 years old. This rule does not apply to family members.
Unless traveling for school or work, teens are not allowed to drive between the hours of 10:00 p.m. and 5:00 a.m.
2. Understand (and Enforce) the Rules for Minor Driver's License in Nevada
The rules for a minor driver's license in Nevada aren't too complicated. These rules are also known as GDL (graduated driver's license) laws. By knowing these laws yourself, you can guide your child through the process seamlessly.
To begin their driver's education journey, a teen must first obtain their driving permit. To get this permit, a teen must:
Apply when they are at least 15.5 years old.
Have a parent or guardian with them when they go to the DMV to apply.
Pass a vision test and written exam.
Prove they attend school with a valid school ID.
After completing at least 30 hours of driver's education classes and clocking over 50 hours driving with a parent or guardian, the teen may apply for a minor driver's license. Teens cannot get this license until after their 16th birthday, and after 6 months have passed since obtaining their permit.
Students will not be allowed their permit if there are any moving violations, drug-related incidents, alcohol-related incidents, or at-fault accidents on their record.
3. Seat Belts
Another law in Nevada for teenagers requires seat belts while driving. Many drivers' education classes include informational videos and serious discussions about what can happen if you do not wear your seatbelt.
Reinforce this at home in conversations. Share stories of teenagers who failed to wear their seatbelt and had to work to pay off the fine, or those who were injured due to this choice.
Related topic: 5 Driving Safety Tips for Teens in Nevada
4. Talk About Drugs and Alcohol
Another important discussion to have is about drugs and alcohol. Nevada is a no-tolerance state, which means it is illegal for a minor to have any alcohol in their system while driving.
If your teen is driving, and has a BAS (bodily alcohol content) of 0.02 or above, they can be charged with a serious DUI crime.
Also, if your teen is above 18 years old, they can be prosecuted as an adult for a DUI.
If your teen is under 18, the state can still prosecute them as an adult if they are charged with a felony. A felony occurs automatically in cases of third or fourth DUIs.
5. Know What to Do in the Event of a Car Accident in Las Vegas
If your teen gets into an accident, they need to know what to do. Make sure they know to get somewhere safe and call emergency services. If they are able, they should take pictures of the accident. You should save any medical bills and other physical documentation as well.
Also, if they are injured, they must follow the advice of medical professionals. Some teens may think they don't need full medical assistance after an accident. But, it's important to follow through on doctor's orders. This is especially true not only for their health and wellbeing but also in case a personal injury lawsuit occurs.
Related topic: Most Dangerous Intersections in Las Vegas for Car Accidents
6. Call ER Injury Attorneys
If your teen is injured in an accident, call ER Injury Attorneys at 702-878-7878. We represent clients throughout southern Nevada, including Clark and Nye County, all Las Vegas areas, Henderson, Summerlin, Boulder City, Laughlin, and Pahrump. 
After your free consultation, we will determine if you have a case. If you do, your family may be able to obtain fair financial compensation. So, don't wait–give ER Injury Attorneys a call today.
​​The information on this blog is for general information purposes only. Nothing herein should be taken as legal advice for any individual case or situation. This information is not intended to create, and receipt or viewing does not constitute, an attorney-client relationship.